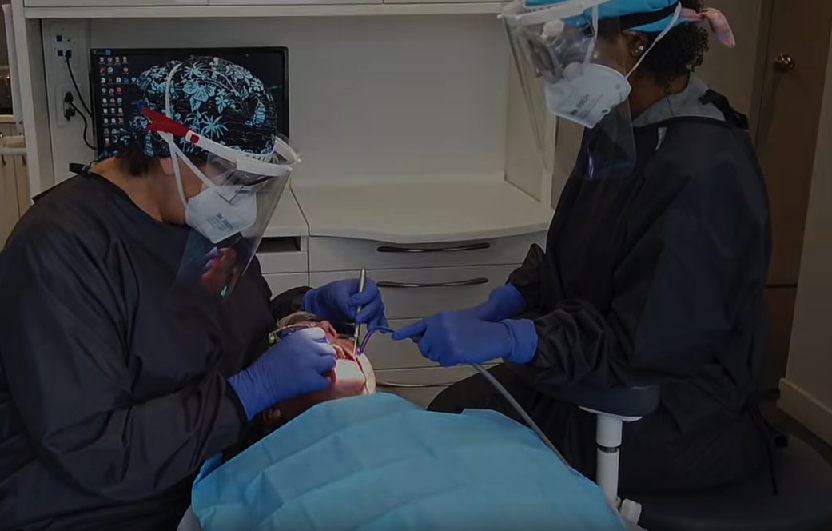 When you arrive

You will be asked to arrive exactly on time for your appointment and, if possible, to call before entering the clinic.
Once inside, you will be directed to wash your hands with soap and water or an alcohol-based hand sanitizer. You may also be asked to wear a procedure mask or face covering if physical distancing of two metres is not possible. Though we strongly recommend you bring your own face covering, face masks will be provided, if needed.
You will again be asked to answer a questionnaire on your current health to make sure that you do not have symptoms of COVID-19. Again, it is very important to answer honestly to the questions you are asked on your current health. A member of the dental team could also take your temperature with a contactless thermometer.

As is now the case in all public places, you will be asked to comply with physical distancing rules with other patients and clinic staff, both in the waiting area and when you are walking to the exam room.
Anyone accompanying you will need to stay outside the clinic. However, you may be admitted under certain conditions to accompany a child, a person with a disability or a senior. In this event, you too will need to answer a health questionnaire to make sure that you do not have symptoms of COVID-19. If accompanying someone, you will also need to wash your hands and stay two metres from the treatment area. If you need to approach the treatment area, you will be asked to wear a mask or face covering.

The dental procedure

As a health professional, your dentist is accustomed to working in an environment governed by high standards of sanitation and infection control. In the current context, you can be assured that the dental team will be applying these high standards when disinfecting treatment rooms.

Before the treatment, you will be asked to rinse your mouth with an antiseptic mouthwash, ideally for one minute, or twice for 30 seconds. You will be given instructions on how to do this.

When you leave the treatment room, you will be asked to wash your hands and, if physical distancing cannot be maintained, to put on your mask or face covering until you exit the clinic.